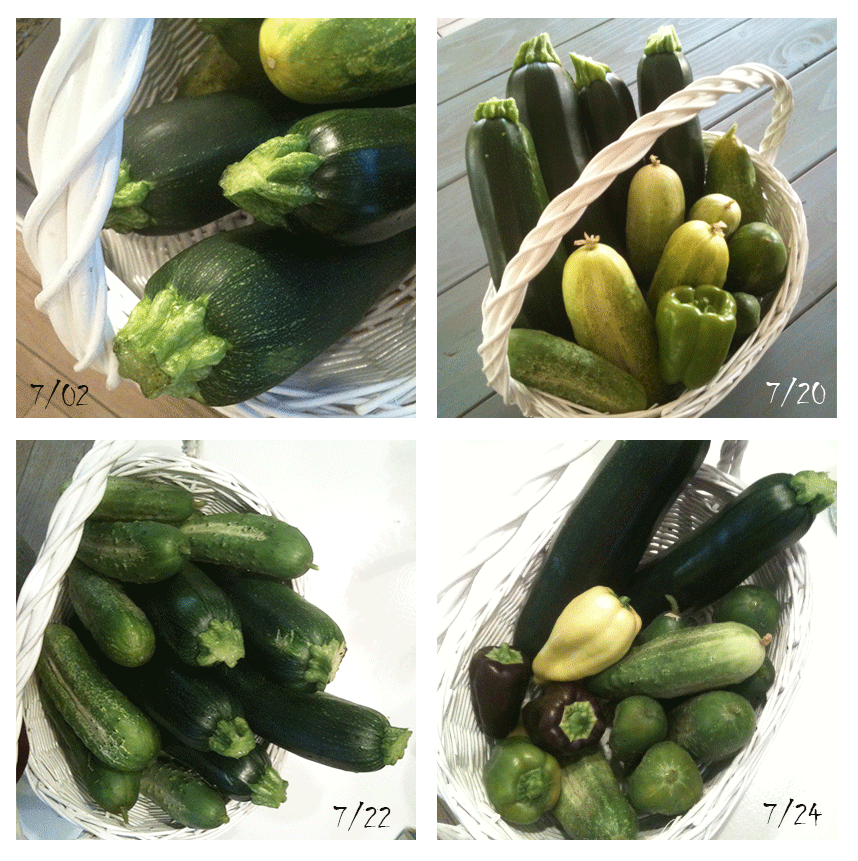 So last week I told the whole world, or maybe just the inter-web, which translates to pretty much no one how I have zucchini brain. I also set a goal for my self to blog for 7 days about all things zucchini in my life. I know, I know, it's not really chocolate related but these days that's what's up. So this is my re-cap. But first I wanna share my garden wit ya. I really wanted a garden and man did I get it. It's so amazing how fast everything grows! Pictured at left I have just a few baskets of harvest, at first it seemed normal until around the 20th when I started getting a basket every two days. Still going strong I picked four zucchinis just yesterday.
May 18th All seed starters besides roses, peppers, artichoke and berries.

 Harvest of cucs began on 6/26 and squash 6/30. Picture is from July 22nd- Cucumbers, Squash, Watermelon, Okra, Tomatoes, Eggplant, and Herbs. Soybeans were getting burnt by the sun so I attempted to shield them with this sunny umbrella.

Quick Zucchini Re-cap
Super Green Bean Zucchini Salad
Oven Roasted Lemon Pepper Zucchini
Top 3 Favs!