Zucchini. Seven Days. Seven Ways.
Day 1: Baby I like it raw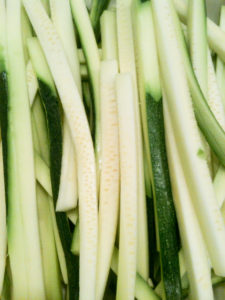 Ok, so maybe all this dip it in hummus party is getting boring. Or maybe you snagged a summer cold from that double dipper and need to stock up on some vitamin C. After all, zucs are high in this powerful antioxidant and pack the most punch raw. A one cup serving (196g) boasts 58% of your daily value. For more Health Benefits of Zucchini check out yesterdays spiel. I sliced up these bueauts with a handy contraption I would have never bought called the chef's envy.  It was a gift from a bff that sat in the box for way too long before I discovered how awesome it really is. She bought it from a guy doing demos at Ralphs, something I would have also never done but what are friends for! I'm sure a knife would suffice but gadgets are fun.
This is just something I tossed up on a tuesday trying to be creative and use ingredients I had.  Please excuse the informality of the spice additions and the use of my crappy iphone photos! Still rockin that 3GS and getting back into the swing of posting recipes and not just winging it in the kitchen.
Instructions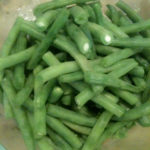 -Its a good habit to prep veggies and get ingredients ready first. This makes cooking go smoother instead of frantically cutting veggies while something is burning. Cut the zucchini and set aside to add last. Chop celery, green pepper and peel garlic. I chose to snap the ends off the green beans and snap in half because I get all nostalgic thinking about how I used to do it with my great-grandmother that way when I was small. But it's not necessary for broiling.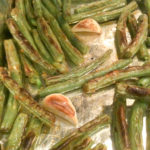 -Next set the oven to broil on high. Toss green beans and whole garlic cloves with 2tbl olive oil and 1tsp of season salt. I had a fancy citrus sea salt which is mixed with herbs, but whatever you have is ok too. I also sprinkled fresh ground pepper and paprika using the good ole "eye ball method." It's really about personal taste, we like peppery foods so I'm not shy with the pepper but also know not to go overboard.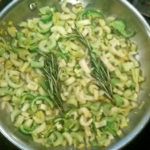 -Then while the oven is preheating sauté the celery and green pepper with 1tbl of olive oil and the rosemary sprigs over medium heat for about 3 minutes. Then add the rice vinegar and simmer on low covered while you cook the green beans. if there is too little liquid you can add water a tablespoon at a time until you have just enough to simmer.
Finally
-Dice garlic, I like to use a chopper gadget for this and toss all ingredients together in a large bowl.  SUPER GREEN
OPTIONAL ~ for extra flavor! Toss in a tsp of red chili pepper flakes.  Take it up a notch with 1C pickled  brussels sprouts, I happen to stumbled upon some at tjmaxx. If your not into the whole pickled idea or if you can't get a hold of some, fresh brussels sprouts could always be broiled with the green beans. Just add oil and spices accordingly.
Have fun with it. Hone in on your sense of smell and taste. Cooking is organic for me and all about exploration and creativity. We all have different palates and with endless flavor combinations we have become spoiled, maybe that's partly why it's an obsession.
We all have different taste and the beauty of it is that we have to power to cater to those taste. With so many fruits and vegetables readily available to us why waist energy on processing food.  Raw food is clean eating and makes you feel good. It's light and full of water that wont clog the system and make us fragile to illness and disease. I'm not a vegetarian or angel by all means but I believe in moderation of all things.
Tomorrow, Day 2: The new Old Fashion
Grilled Mama Rule Zucchini