Recently I got a call from a family member who was asking about soy free chocolates. She has a friend who just found out she has allergies to soy, wheat, and corn. How horrible! In trying to help her discover a soy free chocolate she turned to me "the family expert". Luckily I have a box full of empty candy bar boxes and wrappers, my favorites of course. So I quickly pulled them out scouring over the ingredient labels.
Soy Lecithin is a very common ingredient found in chocolate. I often wondered myself what it was and what purpose it served. Lecithin is derived from soybean oil  and used in chocolate manufacturing for its emulsifying properties. Helping to keep the cocoa and cocoa butter elements bonded together and thus increasing shelf life.
In my reading I discovered that during the  process of extracting lecithin from refined soybean oil, most of the allergenic proteins are eliminated. Studies have shown that soybean-allergic individuals are not sensitive to soy lecithin. Although there are people who are allergic to soy lecithin and not sensitive to soy beans.
If you fall into either of these categories or just want to try some damn good soy-free chocolates I have some suggestions for you. I pulled these from my box of "research" and attest for their overall flavor and goodness.
Dark Chocolate Twist by Alter Eco. They have other types of candy bars, this one in particular is full of crystallized orange peel.  I could not put it down!
Rio Caribe by Rogue Chocolatier. Further proof of my love for Venezuelan cocoa beans. Full of coffee notes with hints of citrus.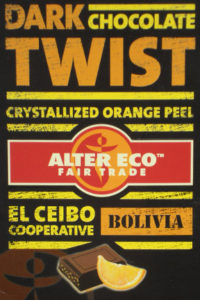 I do have other bars worth mentioning like Amano and Michel Cluizel but they either state on the box; " may contain traces of" or "is processed on machines/equipment shared with soy products.
Look for these and other great chocolate bars at gourmet food retailers, Whole Foods or your local health food store. Bon Apitite!