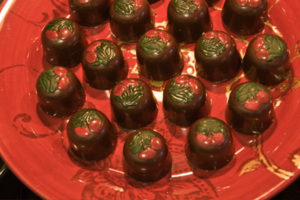 Tackling fondant can be tricky and a good work out! I used to make these delicious Cherry Cordials for Christmas and Valentine's Day but have skipped them over the last couple of years due to the time consuming labor and short shelf life. I decided to make these cordials for a recent chocolate and wine pairing party as a special treat. Because I am always looking for new pairs to mate, we tasted these cordials with the famous Wilson Creek Winery Almond Champagne. I knew these two would hit it off because I always put a touch of almond extract in the fondant to enhance the flavor. I think the flavors are initially a bit sweet together, but with two outstanding partners it's difficult not to find bliss!
Personally I choose to mold cherry cordials, mostly because it helps their shelf life. I also choose to use a "fancy" cherry cordial mold and hand paint them, because it makes them look fabulous! I have hand-dipped them and used a regular dome mold before. I understand that the experimental chocolatier may not have a closet full of molds like I do; therefore dipping will work just fine. When hand-dipping it is important to take special care in covering the whole cherry, if this is not accomplished the fondant may start to seep out as it turns liquid. You  should also be aware of how thin your chocolate shell is because this liquid can sometimes penetrate the chocolate from the inside causing it to become soft. I know some people like to double dip the cherries to avoid these problems.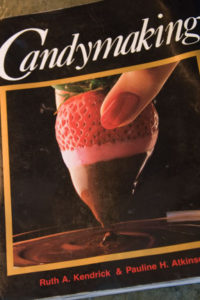 This recipe comes from a great cook book called "Candy Making", my very fist book on the art. Back when I first started in my own kitchen in 2006 this book was pretty much the only one at the local book store on chocolate or candy making period. I thought at first it was a bit old fashion, but quickly learned "Candy Making" to be a great base for a beginner such as myself. Since then I have experimented with many of it's recipes and they have inspired me to create some of my own as well.
***This is a great recipe and can be as simple or as difficult as you choose to make it. I think making fondant is slightly advanced candy making and if you have never tempered chocolate before you probably want to learn first by dipping something more simple. If you just have to make these and don't know how to temper try using  old school methods of melting chips and adding paraffin wax, my sis does it all the time. I have also heard they have tubs of easy melt dipping chocolate  for beginners that you melt in the microwave. But I wont attest for that stuff as I have never tried it and am sure the quality is sub-par.
Tools you will need:
paper towels
baking sheet
4-qt sauce pan
wooden spoon
candy thermometer
dough scraper and/or metal spatula to work fondant
double broiler
fork
wax paper
Ingredients you will need:
maraschino cherries (md to lg jar)
sugar
corn syrup
salt
water
tempered chocolate for dipping or molding (I choose dark chocolate to help balance the cordials sweetness.)
It's time to cook the fondant, follow directions carefully and keep a close eye on the thermometer. If sugar crystals form along the sides of the pan you may wash it down with a wet pastry brush. I don't usually have much of a problem with this if I stir carefully in the beginning.
*If you choose to mold your cherries now would be the best time to make shells. And if painting was involved it should also be set-up by this time.
Once the fondant is set up you are now ready to slowly re-melt it for dipping the cherries. Place fondant in a double broiler on the stove over med/low heat. Continue to stir frequently until melted and then turn the heat down a touch. If necessary, the reserved cherry juice may be added at this point to thin the fondant for dipping. Add one teaspoon at a time until desired consistency is reached.  (I think this depends on how "set-up" of stiff your fondant was. I find sometimes I don't even need more than 1tsp and other times I need up to 6.)
When the cherries are dipped in fondant and cooled they are ready for chocolate. We don't want to wait too long for this step because the juice from the cherries causes the fondant to quickly break down. This is what we want, but only after the cherry is also covered in chocolate.
If you are hand-dipping, dip each cherry in tempered chocolate, using the same technique as in the fondant but take extra care that you don't scrape too much excess from the bottom. We want them to be fully coated to prevent seeping and quick spoilage.